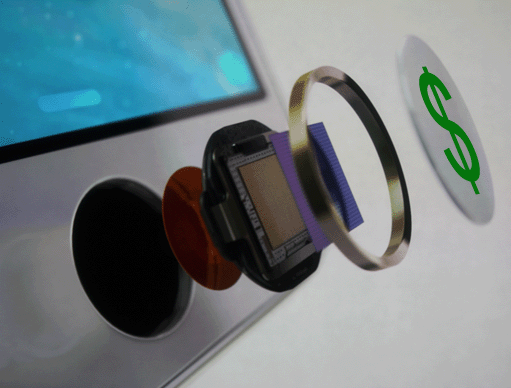 Amongst the news of high-res cameras and 64 bit A7 CPUs delivering twice the performance, Apple introduced a new home button on their iPhone 5s, one that interestingly contains a fingerprint sensor. This move was widely anticipated after Apple acquired AuthenTec along with their fingerprint sensor patents for $356m in July 2012.
The obvious use for this is to unlock the phone without the need to type a password, draw a shape with your finger or swipe the unlock button. But this new feature also has the potential to improve many of the ways we purchase online today.
Fingerprint sensors are not new, my laptop has had one for years, making sign-in that little bit simpler, but so far no devices have tied this to payment confirmation. Apple plans to link fingerprint authentication to the online purchases we make through iTunes and the App Store and may later open this up to third party solutions. This is a simple but fundamental upgrade which delivers a number of benefits, some more obvious than others.
When collecting any payment it's important to consider two things:
Collecting the payment (conversion rate): The simpler and smoother the process of collecting money from the customer, the higher the probability it will succeed. The more steps you introduce the more chance there is that the customer will fail, get confused or simply change their mind. In fact, for every additional step introduced you can lose up to half your remaining customers – we call this "Walkers law".
Security: Ensuring you are collecting money from the correct person, with the permission of the bill payer. The safest, zero-risk option is always not to collect the payment, but that makes little sense.
These two factors naturally oppose each other because security traditionally adds complexity to the customer's payment experience, entering PIN codes or passwords. This is an area Bango knows well, having developed significant innovations around cloud based user authentication, payment risk management, mobile identity and user experience.
The Bango payment system uses a range of factors to silently authenticate the customer wherever possible, avoiding the need for PIN codes, passwords or fingerprints – it automatically ensures the optimal, super-smooth payment experience and the highest possible conversion rates at all times. Apple's new fingerprint scanner augments this nicely to provide a low-friction, higher security authentication mechanism when required.
The new fingerprint sensor gives Apple the ability to further improve their usability-security balance by completely removing the need for iPhone customers to remember PIN codes or passwords – they simply touch the home button and the payment is confirmed, further increasing Apple's conversion rates by making it easier for people to pay. The fingerprint sensor also has the potential to reduce risk and increase security, in that the device owner must be present to make a purchase , ensuring undeniable accountability.
Going forward we can only just begin to anticipate all the other payment possibilities that the iPhone fingerprint scanner could enable. Home banking apps obviously get another form of strong authentication. In-store cards payments, for the weekly groceries, could use a fingerprint scan to approve rather than a signature or PIN code. Fingerprints suddenly become fundamental to Apple Wallet plans. Importantly, because the fingerprint is only stored on the device there is no need to share this important biometric with third parties to enable these things.
The new Apple iPhone 5S fingerprint sensor is a device innovation that Bango welcomes whole heartedly and we look forward to Apple opening up its capabilities to approved third parties.