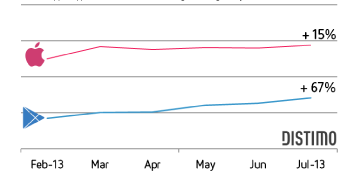 Everyone likes a success story, so the recent stats from our friends at Distimo revealing that "Google Play revenues surged by 67% during the last 6 months" was most welcome. Especially since Bango connects operator's billing systems into Google Play, allowing subscribers to pay for apps and content using their mobile phone bill. Apple in the same period, according to Distimo, grew by a very respectable 15% showing how consumers are increasingly prepared to pay for quality apps and content. It shows that smartphone uptake is increasing within high penetration markets such as the USA and Europe while entering new markets such as Russia.
It is interesting to see how this explosive revenue growth aligns with Google's current global push to add operator billing as a default payment method. It is common knowledge that credit card penetration in certain regions is very low – in these countries the ability to pay using the mobile phone bill becomes a necessity for any store. Bango has recorded massive uplift in conversion rates in countries such as Indonesia following the introduction of operator billing, often seeing increases in the range of 1000%.
But revenue boosts from operator billing are not just restricted to the usual countries. Germany is one of the wealthiest countries in the world, but credit card use is low for cultural reasons. Similar can be said for parts of the Middle East, where high revenue boosts can be gained by making operator billing the default option.
Even in the top 5 countries reported by Distimo, such as the USA, UK and Australia where credit card penetration and use is historically high, the introduction of Direct Operator Billing super-charges mobile commerce. Where Bango has introduced Direct Operator Billing to markets with high credit card penetration, the sales of digital goods has routinely increased by 300%.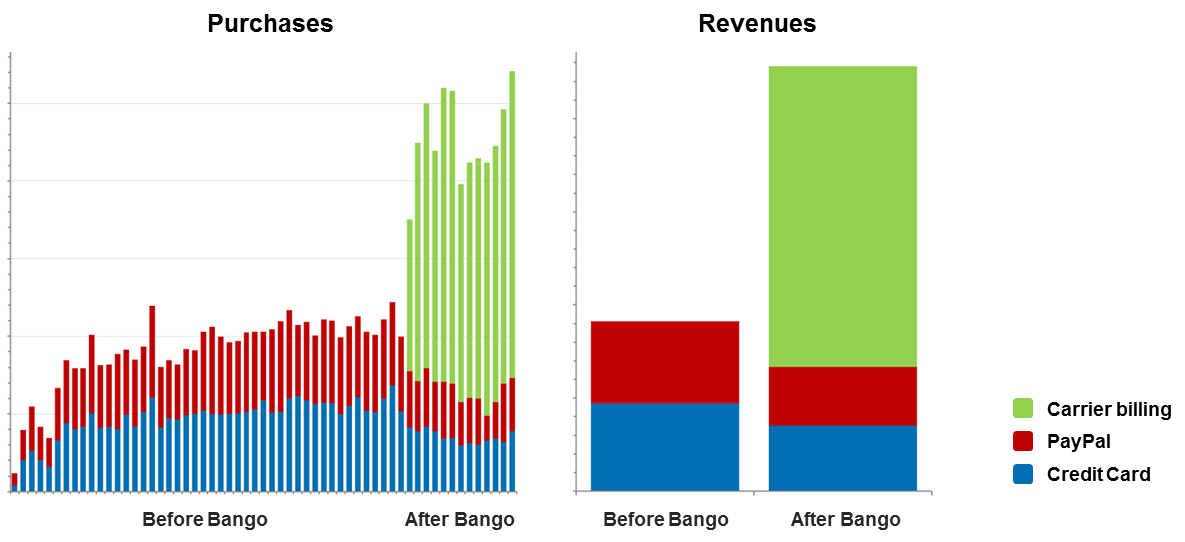 This reported growth in revenues from Google's Play content store underlines the effectiveness of operator billing in new smartphone markets, a point that will have been noted by the two giants of digital commerce, Amazon and Apple.
The full Distimo report can be downloaded from here.