The presentation by AKQA Digital at this week's Online Marketing & Media Show clearly demonstrated the exciting ways top brands are engaging with mobile.  It's really great to see top brands embracing mobile!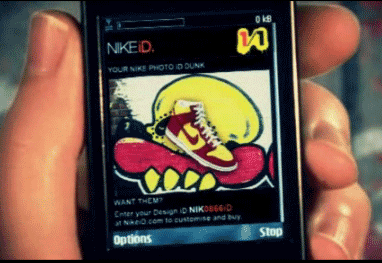 In particular, Dan Rosen, Managing Director of AKQA Digital talked about one of the biggest global sports brands Nike launching their Nike PhotoiD, an innovative Pan-European mobile marketing campaign to promote their 1985 Dunk high-top basketball trainers and at the same time encouraging mobile users to interact with their surroundings.
The campaign enables Nike fans to create their own trainers based on colorful pictures they take on their camera phone.  Nike fans send the picture to a shortcode and receive a picture of the 1985 Dunk high-top basketball trainers in the two colors best fitting the picture they sent.  Along with the image of their customized trainer which they can save as wallpaper, they are given a unique code to enter online if they wish to purchase the trainers.  More about this in The Guardian (AKQA by the way was responsible for the creative for this great campaign).
Smirnoff is another major brand with a mobile twist.  Their mobile bar tender smirnoff.mobi site gives mobile users a comprehensive list of cocktails to easily reference and request when they are on an evening out and when looking for  the nearest bar serving Smirnoff Vodka, maps are close at hand.
The latest brand to jump on the bandwagon is Unilever with Pot Noodle who launched their mobile site earlier this week.  The Pot Noodle site potnoodle.mobi contains a whole host of free downloadable funny content including videos and ringtones.  This kind of mobile extension enables brands to effectively increase its engagement with consumers and increase reach by creating viral spread.
Mobile is personal and with a recent stat showing that 91% of mobile users are never more than 1 meter away from their mobile phone – brands have the most targeted platform for their marketing.
We'll keep you up-to-date as more exciting mobile campaigns go live.