With election day rapidly approaching, one wonders what's going through the minds of the main party leaders, although I think we can all guess what's going through Gordon Brown's today.
Having watched Britain's first live televised election debates, I'm certainly looking forward to watching tonight's, focusing on the economy. I hope to hear some more detail about their policies and promises, which will help me make up my mind – as like the other millions of people in the UK, I'm still unsure about who my vote is going to. So, while on a train journey to London earlier this week, I decided to use my time wisely and read more about their policies; and what better way to do this than using my mobile phone?!
Rather than reading a summary of the main parties' policies, I wanted to check each party's website so that I could browse and choose those that are most important to me; employment, housing, and crime. So – after a quick search in Google for "elections mobile sites uk" – I was pleasantly surprised to see that the one coming up top in the search results was actually the Green party, they have a mobile site! I immediately checked it out and was interested to see that it has a good layout, optimized for mobile, with links to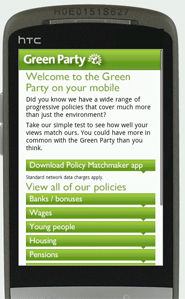 each of their policies, which were easy to read.
You can visit the site at http://m.onlygreen.org.uk 
After searching for the main parties' mobile sites, I found the Conservatives, http://m.conservatives.com/ , a good easy-to-remember url, credit to Rishi Saha, their Head of New Media. The site offers a summary of the party's news, with photos and links to their policies. Overall the browsing experience was good.
However, one thing that I couldn't find on either of these sites was a button link to "donate" to their campaign; I think they missed a trick here. Having captured my attention with a slick mobile site and 'impressive' policies, who knows, perhaps the next thing I would have liked to have done was to donate!
But having searched for the Labour and Liberal Democrats sites, they were nowhere to be found. I believe Labour has an iPhone app, but I have a Nokia phone, so they've obviously forgotten about the millions of us without iPhones.
So, Gordon, here's another question for you to think about today, I'm not bigoted and I'm not an iPhone fan, so should I vote for you?