Tanya Stittle is first female to win the award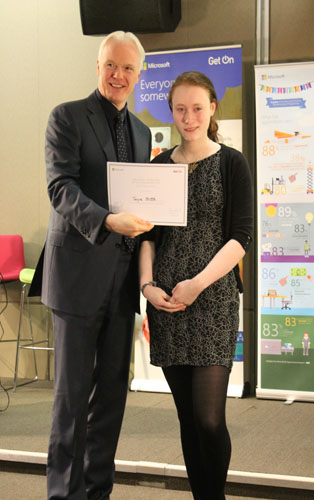 Young apprentice Tanya Stittle has been crowned Apprentice of the Year, at the 2015 Microsoft Apprentice of the Year awards. Tanya, who works for mobile payment company Bango, was chosen as the winner from the hundreds of apprentices backed by Microsoft and employed by its partner businesses. Tanya is the first female winner of the award, marking a significant milestone in an industry that has traditionally failed to attract young women.
Tanya, 19, was awarded the prize in recognition of her exceptional contribution to the team since joining 20 months ago. The judges commended her ability to quickly build the skills required to solve complex technical problems, develop a logical approach to her work and her readiness to take on new challenges.
Beyond excellence in her role, Tanya acts as a mentor to her team members, and is also an apprenticeship role model outside of Bango, having supported several case studies, films and media panels promoting the career opportunities for young women in technology.
Bango has been strongly committed to apprenticeships since first launching the scheme in 2013. Bango recognises the need to grow the local talent pool and to nurture individuals who have opted not to go to university, instead choosing to learn and succeed in a professional working environment. Bango currently employs 10 apprentices within the Software Development and Platform Operations teams.
The Microsoft Apprenticeship Programme – in partnership with a network of training providers – is part of the company's commitment to providing the relevant training and skills to young people in the UK to help them succeed in the workplace. Microsoft works with businesses within its partner businesses to deliver these apprenticeships – a programme that has now seen over 7000 young people placed with around 5000 companies in the 5 years of its existence.
Bango's Platform Operations Center Team Leader, Chris Goulding, comments: "Tanya has a fantastic problem solving ability and relishes even the most complex of challenges.  Since joining Bango, she has far exceeded all of her set objectives, taking the technical lead on a number of projects with high profile clients. Tanya is a role model to inspire other young women to consider an IT apprenticeship, and we could not be prouder that her accomplishments have been recognised as Microsoft's Apprentice of the Year, 2015."
Bango won wider recognition at the Apprentice of the Year Awards. Tanya Stittle also took the award for SME Apprentice of the Year, and Bango was a runner up for the 'SME Employer of the Year' award.