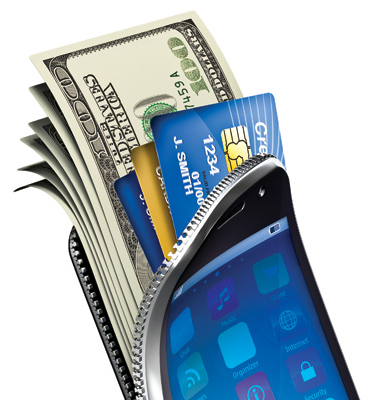 In the last few years, the idea that we will soon abandon our wallet in favor of our mobile phones has moved from being an interesting possibility, to a future-gazing cliché. Many have begun to fear that the flying car will arrive sooner than the mobile wallet. But the promise of frictionless retail payment using our phones, and the ability to manage our varied payment methods from a single, virtual place, remains intriguing.
A mobile wallet is a service allowing users to store key online shopping data (addresses, logins and so on, not just credit card details) in a central, digital 'wallet'. A simple and single PIN number will unlock varied payment methods. The last year or so has seen great momentum in the mobile wallet space, and it's worth revisiting this nascent technology.
The ISIS partnership is a joint venture, formed by Verizon, AT&T and T-Mobile. It uses near-field communications (NFC) technology to enable mobile users with an NFC chip to tap their devices on contactless POS terminals to make a payment. ISIS has strong momentum, having secured several big names from the banking world in support, opening the product up to 100 million card holders in the US at launch. ISIS represents the most high-profile attempt to build a cooperative ecosystem around mobile wallets – one that encompasses operators, service providers and brands.
Set against this cooperative approach, three of the biggest names in tech – Apple, Microsoft and Google – are leaping into new territory with their own mobile wallet offerings. These are competing attempts to use scale, reach and brand trust, to become the key component in this emerging value chain.
Most mobile wallets are seeking to harness the power of NFC, putting them at the mercy of retail adoption. Will retailers be prepared to buy new hardware before demand can be seen? Similarly, the lure of NFC as a smart, shiny new technology won't be enough on its own. There must be a much bigger consumer incentive than simply replacing the swipe of a card with the tap of an NFC transaction.
Building on this theme, we at Bango feel that payment is not the point of mobile wallets. If a mobile wallet is considered to be a tool that identifies a user and authorizes a payment, it's the things that could happen next which are the most interesting. For example, PayPal have touted a fascinating use of their mobile wallet app: Users can choose how they want to pay for purchases after the point of sale. So a user could move a purchase between credit cards, their PayPal account, perhaps a store card, or they could even split the payment between multiple sources.
Until recently, analysis of our shopping trips has been limited to holding on to a small pile of receipts. Mobile wallets allow our entire shopping experience to be tracked and visualized, putting the user in charge of an online management center, from which both online and real-world purchases can be monitored. Next, think of coupons and other rewards. Mobile wallets will allow the deduction of coupons and rewards to be automated – no more disappointment when we realize that we forgot to produce the actual piece of paper on which the coupon was printed.
Similarly, Dan Rowinsky of ReadWriteWeb believes the value is in the layers beyond the actual payment transaction. He encapsulated the potential incentives very well when he wrote:
"The value of the mobile wallet is the digital transformation of monetary and transaction data. When a consumer makes a purchase on a smartphone, the retailer knows who that person is, the mobile wallet provider gets information about what was bought when and where and by whom and the consumer gets the value of electronic receipts and the ability to receive coupons, offers and loyalty rewards. In this, the mobile wallet providers hold the greatest potential for influence out of the whole ecosystem. The entity that controls the information that goes in and out of the wallet is the biggest beneficiary of the transformation…"
Bango's view of the current mobile wallet market is that there remain several points of considerable friction. A list of friction points would be long, but would begin with issues around device compatibility (will this work on my phone?), and security fears (can I trust this with my credit card numbers). That said, the general promise of bringing frictionless mobile payment to retail is one that Bango fully supports, and we're excited to be working with MasterCard on their PayPass mobile wallet.
For a final thought we'll go back to Dan Rowinsky of ReadWriteWeb: "Ultimately, the smartphone will be the wallet. Apps that meet the requirements of simple, ubiquitous and useful will replace plastic cards at the top of that wallet."