It's no stretch to declare 2016 as the most significant year for the app stores since their launch nearly 10 years ago. Nintendo finally dipped their toes into the ocean of mobile apps, both indirectly through Niantic's Pokémon Go and through the mobile debut of everyone's favourite Italian plumber in Super Mario Run, developed by Nintendo themselves. Major games companies also expanded their footprint, with Supercell, Machine Zone and other leading app store game developers both releasing new titles and improving their existing, huge revenue generators.
With so many landmark app store moments over the past 12 months, we have collated the 'big days' which shaped the app store in 2016: 
March 2nd 2016 – Clash Royale rollout:
The first huge release of 2016 saw Supercell's much anticipated, strategy game follow-up Clash Royale hit all major app stores. It immediately surged up the app store ranking, becoming #1 grossing in over 40 countries within minutes, generating $133 million in its first month. The game beat records set by Supercell's previous outing in Clash of Clans, earning a mass market following on top of critical acclaim. Interestingly, the launch of Clash Royale was additive, rather than cannibalizing the revenues of Clash of Clans, with the two titles swapping places in the hot seat of top grossing global game. That was until a red and white curveball got thrown into the mix…
"the launch of Clash Royale was additive, rather than cannibalizing the revenues of Clash of Clans"
July 6th 2016 – Poké-mania strikes:
The launch of Pokémon on the app stores was always going to cause a boom. Arguably the biggest game series amongst 'millennials', the new mobile version harnessed innovative Augmented Reality to allow users to catch their favourite 'Pocket Monsters' in the real world. The game smashed every expectation, turning the heads of eager players, newscasters and investors alike. The revenues after launch were incomprehensible, every record in mobile gaming history was being shattered. Estimates from Think Gaming suggest that Pikachu and co were generating over $5 million in revenues per day in the US alone throughout July, with Apptopia estimating 5.6 million worldwide downloads in the first three days. The game sailed to the top of the charts in every country that launched, knocking Supercell's Clash series off the podium in many markets for the first time in 2016. Again, these revenues were additive- with Bango finding that other mobile heavy hitters were having negligible changes to their daily revenues in the wake of the game's launch. Pokémon was bringing in a new breed of mobile gamer, and adding a substantial chunk of revenue to worldwide markets. Bango has previously discussed the impact of Pokémon Go in depth here.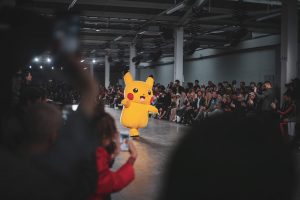 December 15th 2016 – Mario runs rampant:
There aren't many titles which can top the launch of Pokémon in terms of popularity in modern gaming, but Nintendo's debut onto the app stores with their best known franchise Super Mario had the potential, and it definitely delivered. Nintendo issued a statement claiming the game was downloaded 40 million times in the first 4 days, as well as hitting the top 10 grossing in over 100 of the 140 launch countries. The game takes on a 'premium' model, with a $9.99 one-time purchase, rather than an in-app-purchase model common across other top grossing games such as Pokémon Go and the Clash series. While impressive, you have to consider that the game is still yet to launch on Android at the time of writing this overview. This will bring in another huge wave of users, with an enormous revenue boom expected in when it hits the Google Play store.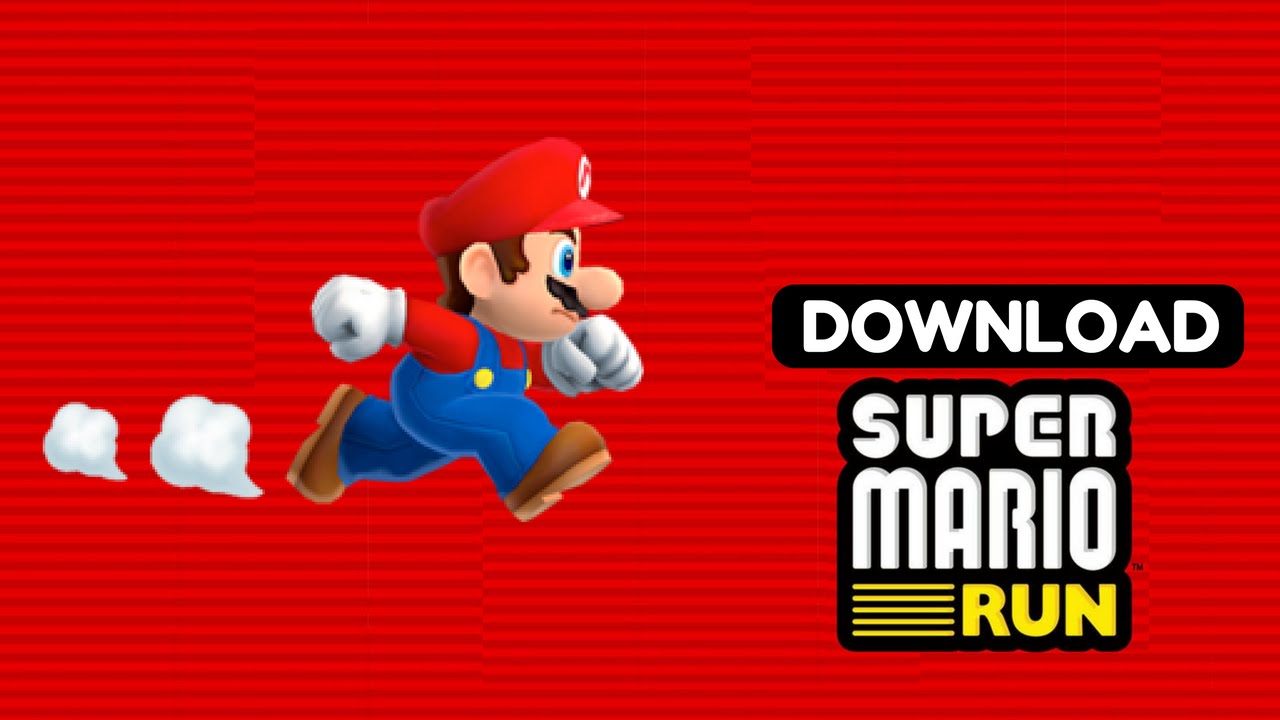 December 24-26th 2016 – In-app revenue hits half a billion, shattering records
The end of year holiday weekend is always a huge period of app stores, with 2016 seeing a season like no other. Google Play and Apple saw a collaborative year-on-year increase of 52% in revenue, rising from $330 million in the 2015 period to $500+ million in 2016 according to Sensor Tower. Of this, 87% was found to be through in-app spend, with Pokémon Go having its strongest week since launch due to a holiday themed event.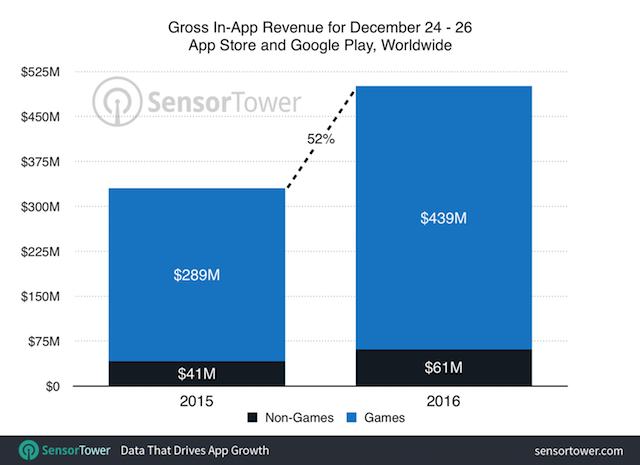 December 31st 2016 – The biggest year in app store history closes on its biggest day
New Year's day ended 2016 as the year began, demolishing yet another record. On the Apple App Store alone, spend on December 31st hit $240 million, with Google yet to release their figures for the year end. "2016 was a record-shattering year for the App Store," said Phil Schiller, Apple's senior vice-president of worldwide marketing. Revenue hit a total of $27 billion on the Apple App Store, with estimates and industry reports suggesting a similar level on spend on Google Play.
While the app stores have much more to offer than just games, the 'big days' were all clearly linked to the marquee launches and updates of the monoliths of mobile. Superdata found a total of $41 billion was spent on app store games in 2016, almost half of the worldwide spend of the total $91 billion spent on video games across all platforms.
What's in store for 2017?
2016 was a huge year for the app stores, but it seems the only way is up. Major games developers such as Nintendo have finally entered the space, with other large publishers finally seeing the significance and opportunity for 2017 and beyond. More hugely anticipated Nintendo franchises such as Animal Crossing and Zelda are on the horizon, and we can expect more content from established games. As with Pokémon Go, these new titles are likely to add new users without cannibalizing the market, bringing first time users in with their favourite franchises, as well as accommodating the 'whales' which have made the app stores the revenue-earning powerhouses they are today. 2016 saw the big shake up with the monoliths of mobile, in 2017 we wait to see which will be the next Pokémon Go or Super Mario Run and take the app store to the next level of success.
Contact sales@bango.com for more information on how you can make the most of the app store opportunity.