Bango and Rogers Wireless announce that they have launched operator billing for users of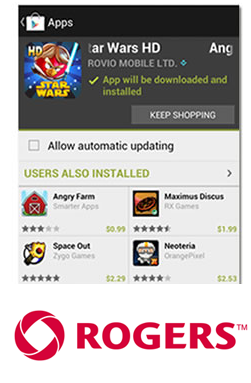 Google Play in Canada. Rogers subscribers can now buy digital content using one-click payment from Bango, paying on their phone bill, without the need to register personal details, send SMS messages or enter credit card details.Following a staged rollout, the service is now available to 100% of Rogers' Google Play subscribers.
The increase in sales of connected devices – smartphones, tablets, even connected TVs – has seen an explosion in digital content. A universe of apps, movies, books and music, accessed from ever more affordable devices, is at our fingertips. Operator billing is emerging as a vital enabler, using the mass market of phone and phone bill to democratize access to all this content.
Rogers is Canada's biggest and most dynamic communications company, and has been at the forefront of payment innovation for several years. Rogers was one of the first network operators globally to embrace operator billing, launching first with BlackBerry World and later with Microsoft's Windows Phone Store. Today's announcement marks the first time that Google Play users in Canada can use frictionless operator billing to pay for apps and other content.
Commenting on the announcement, Bango CEO Ray Anderson said "Rogers is an example to the industry of how mobile network operators can add value into the app ecosystem. We've worked with Rogers over several years to bring operator billing to a range of app stores. Now we're proud to go live with Google Play, bringing frictionless one-click payment to several million Google Play users in a single stroke".
Bango expects to deliver further operator connections into Google Play in support of Google's global rollout. As the Android operating system forges ahead in the connected device market, the sales numbers tell a powerful story. Where Bango has introduced operator billing to developed markets with high credit card penetration, the sales of digital goods have routinely increased by a factor of three. Developing markets with lower credit card penetration tend to see even greater increases.
Bango has become the payments platform of choice for many of the world's leading app stores. The giants of mobile choose Bango to build high-quality direct connections into mobile network operators, to enable operator billing. In addition to Google Play, Bango's existing app store connections include Facebook, BlackBerry World, Windows Phone Store, Firefox Marketplace and others.
Bango's pervasive presence across app stores and the mobile web creates a platform effect for its partners, leading to more identified mobile users and maximizing the number of one-click payments. Bango now has well over 100 live operator connections and more than 200 million authenticated 'billable' identities.