Subscribers demand greater control over digital subscriptions
There's a battle raging in the subscription economy.
Right now, industry commentators are fixated on the 'streaming wars' — the battle between the big guns like Disney, Netflix and Amazon — for a bigger share of subscription service revenue. But the subscription economy is much more nuanced than that.
From Peloton to Calm, Spotify to Deezer, Blue Apron to Hello Fresh, US consumers rely on subscriptions to manage ever more aspects of their lives. Music, food, gaming, health, fitness. The subscription economy is about so much more than how we watch TV.
So, is 'the streaming wars' the right conversation to have? Or is there something more fundamental going on in American homes?
To explore this, Bango commissioned independent research with 2,500 US subscription users, one of the largest studies conducted in this market.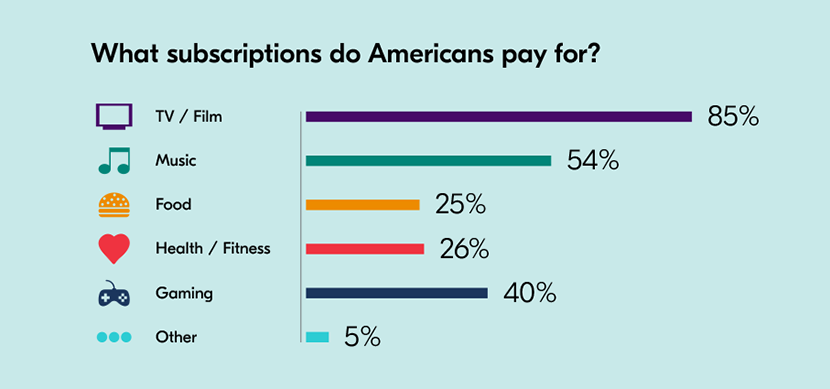 Subscription overload?
New subscription services launched into the market are no longer greeted with excitement from consumers. The market is reaching saturation, with 72% of users saying there are "too many subscription services" now. Two-thirds (65%) say they simply can't afford to subscribe to all these services.
Inevitably, this makes it harder for new services to enter the market, and more costly to promote their services to an oversaturated audience. New players are met with fatigue, making effective distribution harder than ever.
While the cost of living crisis is forcing Americans to reign back spending, a surprising number have lost visibility of their bills:
A third of US subscribers (34%) pay for a subscription that they never use
45% find it too hard to keep track of where and how they signed up to subscriptions
35% of US subscribers don't know how much they're spending on subscriptions
These findings could indicate a seemingly carefree attitude to spending on behalf of US subscribers where money is no object. Sadly, the reality is that consumers have simply lost track of their subscriptions due to a labyrinth of accounts, bills and settings.
A maze of accounts, bills and settings
Due to the fragmented nature of the subscription economy, all these things are turning into an admin headache for millions of consumers.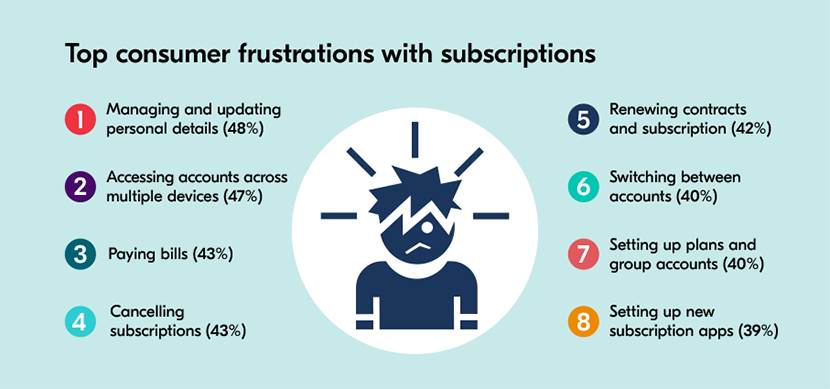 These frustrations stem from the fact that subscription services remain totally disjointed, with 52% of users feeling "annoyed" that they can't manage all of their subscriptions in one place.
Subscribers want simplicity and flexibility
To overcome this headache, users overwhelmingly want to centralize their subscription apps and billing. In fact, a massive 78% want one single platform to manage all of their subscriptions. That's not just their streaming services — it's everything.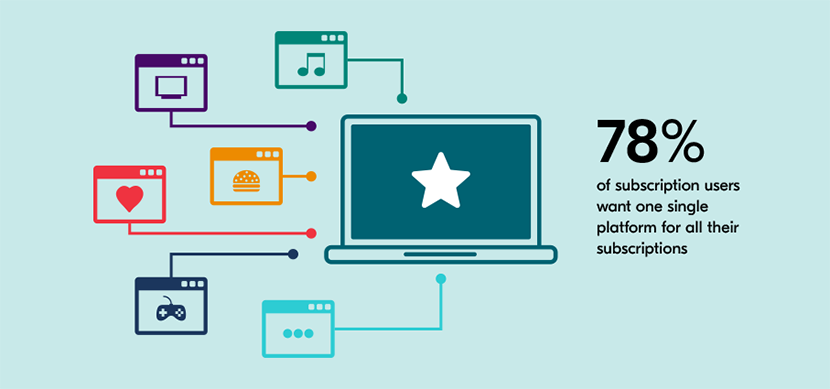 Simplicity is key, but users also want more flexibility when it comes to their bills.
Nearly half of US subscribers (42%) feel 'locked in' to their current subscription providers, while 51% wish they could easily opt out of automatic renewals.
Almost half (46%) are frustrated that they can't take 'payment holidays', temporarily pausing subscriptions, while 56% want to be able to toggle subscriptions on and off as they like.
This isn't just about affordability, it's about content access. According to data from Samba TV, most viewers watch only one program per streaming service, emphasizing the need to dip in and out of different subscriptions.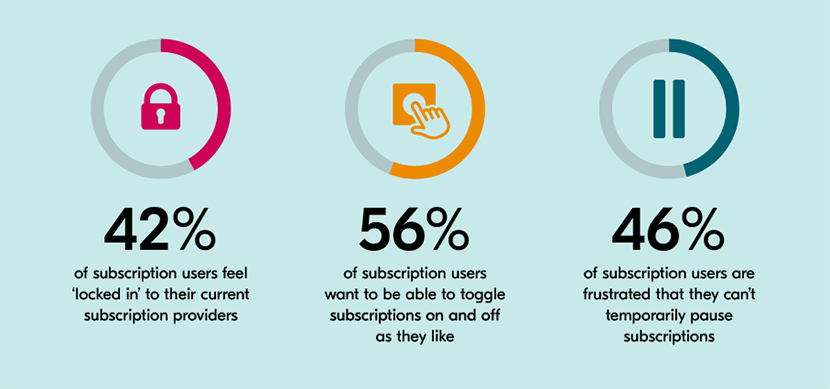 Superbundles to the rescue
For the first time, we're seeing brands like the Walt Disney Company aggregating their content into one package giving users the flexibility to mix and match different platforms (Disney+, ESPN and Hulu) while getting the best price possible.
But bundling streaming is just the beginning. What we need are 'superbundles' that give subscribers control over their entire subscription ecosystem.
This desire to have greater control is encapsulated by the fact that three-quarters (77%) of subscribers in the US want to be able to pay multiple subscriptions via one monthly bill. 79% also believe that this would help them manage their household finances better.
If the customer experience stays poor, consumers will vote with their feet. In fact, customers are already itching for change, and are prepared to get it — legitimately or otherwise. Want to know what is currently the best way to access everything in one place? 39% of those surveyed are heading to online piracy channels to get the user experience they want.
The question for subscription providers is how best to respond?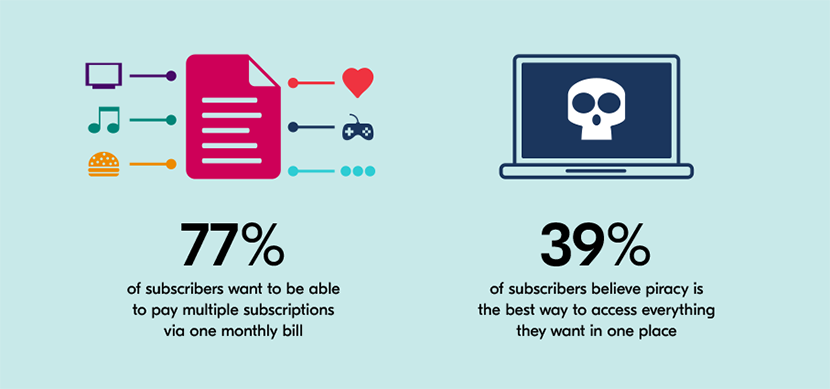 The opportunity for subscription providers
Finding a way to centralize platforms and putting what subscribers want at the heart of the subscription economy isn't just best for users, it's also best for the subscription services themselves.
Brands such as Netflix spend millions to build their own user base and maintain market share. By building a centralized subscriber-centric subscriptions hub, it opens up a huge new distribution channel and the possibility of legions of more loyal users.
According to the data, 71% of subscribers would spend more time using subscription services if a single app was available, while 62% would sign up to more subscription services if they came as a centralized package.
The question is, who is best placed to build this ecosystem? Who do consumers trust to manage payments, link up apps and redesign the subscription economy with their interests in mind?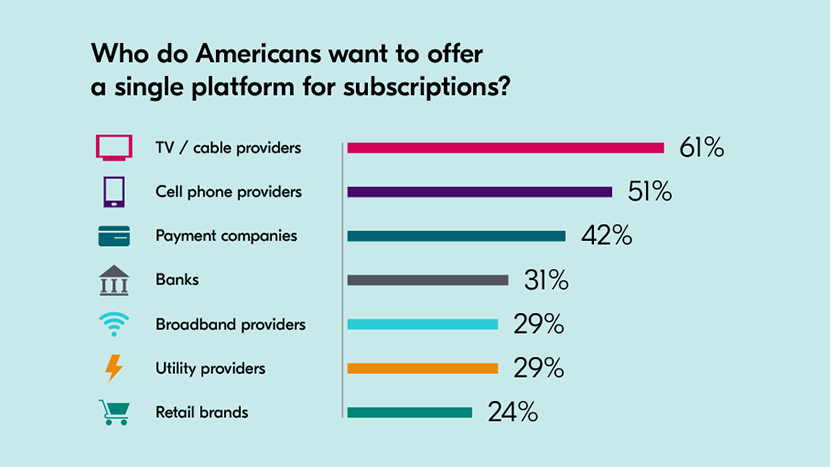 When asked this question, subscription users wanted TV, cell phone and payment providers (Visa, PayPal, etc) to provide this single killer app. While cable providers enjoy something of an incumbent advantage with consumers – it is clear that telcos are well placed to capitalize on this opportunity. The data also shows that there is a significant market opportunity for other brands – with between a quarter and a third of people saying they would trust their banks, broadband providers and even high-profile retail brands like Walmart, Target and Best Buy.
This represents a major opportunity for these brands. 79% of customers believe they would be more loyal to a company that provided an all in one service for subscriptions, while 58% say they would leave their current TV, mobile or broadband provider if this service was offered elsewhere.
Over the next few years, these industries and brands will be well placed to take ownership of the subscription economy building the flexible superbundles that consumers really want. Those that act fastest will gain first-mover advantage.
Offers on Demand — the secret to superbundles
This trend is already starting to happen. In Australia, Optus SubHub already brings together everything from Netflix, to Prime, to Paramount, to Calm, and even Kindle. In the US, Verizon's +play is also unlocking a similar subscriber-centric approach.
It's happening because these subscription providers are embracing 'Offers on Demand', a technology created for subscribers to manage subscriptions. It allows bundlers to create a much greater range of offers for customers. And fast. Put simply, it's a game-changer for the subscription economy.
Offers on Demand technology is built by third-party technology specialists such as Bango, and they enable payment relationships across hundreds of different subscription services, apps, and streaming brands. Adopting this technology, telcos, cable providers and other brands can quickly join up hundreds of subscription services, bundling them into compelling offers, targeted at different customer segments, and adding them to a single monthly bill.
At Bango, our Offers on Demand technology operates as an ecosystem of subscription services, offers and deals. Any telco can plug into it. And any subscription service provider can join to boost their distribution.
Our technology is already behind the distribution of subscriptions from some of the biggest players in this market, with a network spanning Netflix, ESPN, Prime, YouTube, Peloton, Audible and more.
The Bango Platform — which enables this Resale business — provides all the technical capability to provide Offers on Demand. It's ready to plug-in and go — just like a digital vending machine.  The Bango Platform — which already boasts 150 partners and is capable of reaching five billion consumers around the world — can be used to curate marketing offers, target specific customers and even offer alternative payment methods.
As the subscription economy moves into the next phase of evolution, the industry needs to stop fixating on who will win the 'streaming wars'. To do so is to be distracted from the systemic problem that is currently limiting the size of the subscription economy.
To come out on top, the long-term solution is to focus on putting users — people — at the heart of the economy and in doing so shifting from a subscription economy to a subscriber economy.
Want to find out more about Bango Resale, our digital vending machine? Download our introduction to Offers on Demand technology.