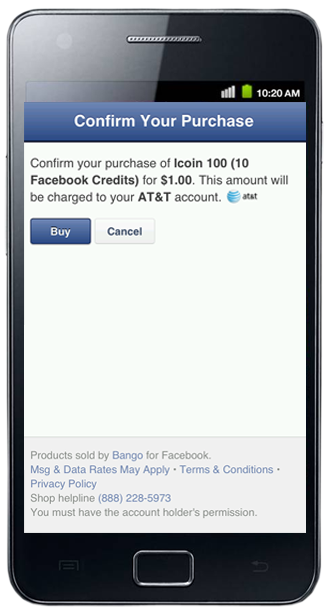 Late last week we were featured in the New York Times, commenting on our agreement with Facebook. The agreement allows Facebook's mobile users to easily purchase digital content on their phone, using frictionless operator billing – Purchases are added to the users' phone bill.
The analyst firm Yankee Group took note of the news, in a post entitled Bango Makes Facebook Purchases Simple. Yankee's analyst Nick Holland was positive about the announcement, and ended his comment with the question:
"Still…couldn't operators cut out the middleman and work directly with Facebook?"
It's an excellent question, and one that we can't resist answering.
The fundamental reason that Facebook, operators and others plug into Bango to drive mobile payments, rather than working directly, is that Bango offers the highest conversion rates.
Bango's pervasive presence across app stores, publishers and mobile operators creates a network effect for its partners, leading to more identified users and maximizing the number of single click payments. Bango creates a persistent identity for mobile users across their range of devices, platforms and networks, and guides them through a frictionless payment experience. As more partners plug into Bango, the whole ecosystem benefits. Bango already has in excess of 100 million billable identities.
In fact it's not just Facebook in the app distribution space who have plugged into Bango to power their mobile payments. Bango has app store partnerships in place with BlackBerry App World, Opera Store, Windows Phone Marketplace and many others. We recently signed a partnership to provide payment services to Amazon, and will soon be able to share how we're supporting MasterCard's PayPass mobile wallet.
Of course there are other reasons for choosing Bango, not least that we've already done the hard work in building out direct billing connections into almost 100 operators around the globe, but the prime driver is clear: Facebook and our other partners choose Bango because our payment platform identifies more users, provides those users with a frictionless payment experience and as a result, we drive sales.