Subscribers using carrier billing in Google Play spend more across all operator services. This is a key finding from a new report published by Bango – "App store carrier billing: Transforming subscriber behavior".
It is widely believed that offering carrier billing cannibalizes operator revenues from traditional services. Bango, in conjunction with Belgian operator Proximus, investigated this belief in detail, comparing pre-paid subscribers who use carrier billing to purchase from Google Play, with those who do not.
The report findings show that contrary to popular belief:
adding Direct Carrier Billing (DCB) to an app store

does not cannibalize

end user spending on mobile data, voice and SMS services
pre-paid subscribers that pay using their mobile phone bill in Google Play

do not have a fixed wallet size

. They maintain the same level of spending on data, voice and SMS services and spend additional money on app store content
Download the report to view the analysis, findings and conclusions.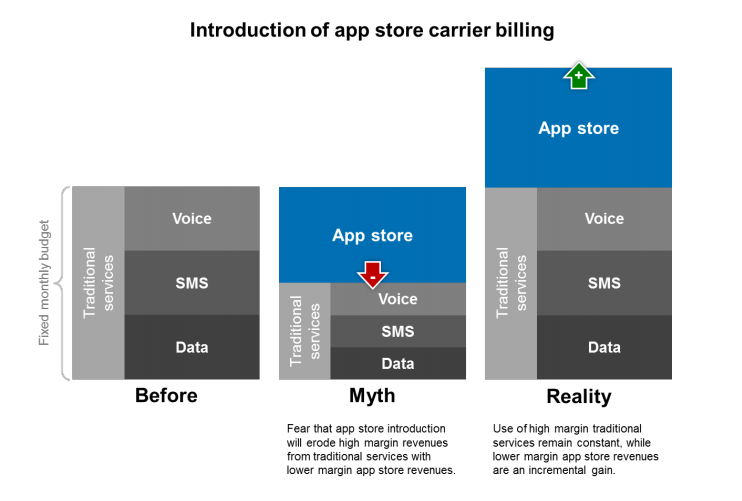 At a glance summary of key data findings:
Customer ARPU was over 160% higher
Voice usage was over 38% higher
SMS usage was over 222% higher
Data usage was over 583% higher
Monthly pre-paid reload frequency was over 128% higher
Pre-paid customer reload value was over 130% higher
The analysis also identified several further benefits that app store carrier billing delivers. Operators are in a position to offer very effective payment services to third parties by taking a more analytical approach to the performance of carrier billing, and recognizing that the use of carrier billing in third party stores increases the overall adoption of mobile services by their customers.
Download the report now to view the analysis, findings and conclusions