Digital subscriptions are the gift that keeps on giving. That's according to insights by Juniper Research which predicts that the number of subscriptions is set to rocket to more than 4.2 billion by 2026 generating some $600 billion in revenue.
This growth isn't just down to the success of movie and music services. It includes interests such as gaming, education, fitness, well-being — and a host of other services where consumers can manage their spending via monthly bills.
Some of the businesses behind these subscriptions market their services directly to end-users. Brands such as Netflix spend millions to build their own user base and maintain market share.
But as the digital subscriptions economy adapts to changing consumer demands, content providers are looking at Super Bundling platforms and flexible hubs to complement their existing efforts and open up new channels.
Super Bundling opens the door to millions of potential new customers
It's easy to understand why. Telcos already have billing relationships with millions of customers. And their technology — whether it be fixed or mobile — is the backbone for digital subscription delivery.
Subscription brands are increasingly eyeing Super Bundling content hubs not just to gain access to this ready-made audience, but to help market their services and manage their payments.
According to George Audi, Head of Business Development and Partnerships at language learning platform, Duolingo, the benefits are clear.
"We've tried a few partnerships with telcos which have been really successful for us," he explained at SubSummit 2023 recently, as he described how partners provide access to new customers.
"Users of telco services are already paying on a monthly basis," he said. "They are high ARPU (average revenue per user) subscribers. They are sticky. We thought it would be a good LTV (lifetime value) retention play. And, obviously, the marketing dollars of the telcos are great to be part of as well."
In other words, it makes sense for telcos to act as a funnel — both in terms of marketing and delivery — for subscription services.
That was true when telcos made one or two subscription services available to their customers. But with the rapid uptake of Super Bundling — which allows consumers to select whatever content and services they want via a single online subscriptions hub — what 'made sense' is now a no-brainer.
By building a centralized subscriber-centric subscriptions hub, it opens up a huge new distribution channel underpinned by access to legions of loyal users.


The benefits of Super Bundling to content and service providers
Partnering with a Super Bundling telco opens the door to millions of potential new customers. This single step has the potential to dwarf any go-it-alone marketing campaign regardless of how many millions are thrown at it.
For consumers, it means they can access a single hub to browse the content on offer. For content providers, they don't have to spend money drumming up an audience based on demographic data alone. Super Bundling means they have a captive audience already.
The key to unlocking access to that audience is focusing on cost-effective targeted and innovative marketing campaigns, partnerships, offers and price points. For instance, telcos could build collections of services around common themes — such as health and fitness, education or travel — that would be appealing in terms of acquisition and retention.
And that's important. Because while Super Bundling puts consumers in the driving seat, it gives them a no-risk approach to trying and experimenting with new services without being tied to a lengthy contract.
After all, consumers are unlikely to try something new if they think their subscription will be difficult to cancel. What's more, if the only option for getting out of a subscription is to cancel it, consumers that do so are less likely to return.
Super Bundling, on the other hand, gives content providers more control of their subscriptions to allow consumers to 'Suspend and Resume' their subscriptions to each service. This pauses — rather than terminates — hard-earned customer connections allowing services to maintain relationships.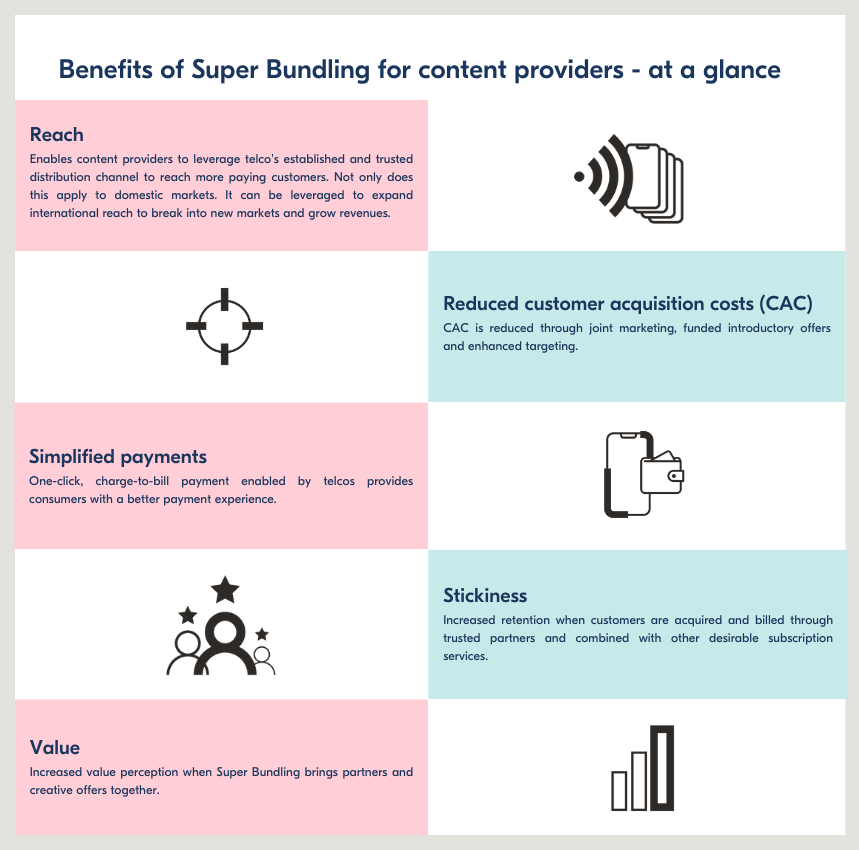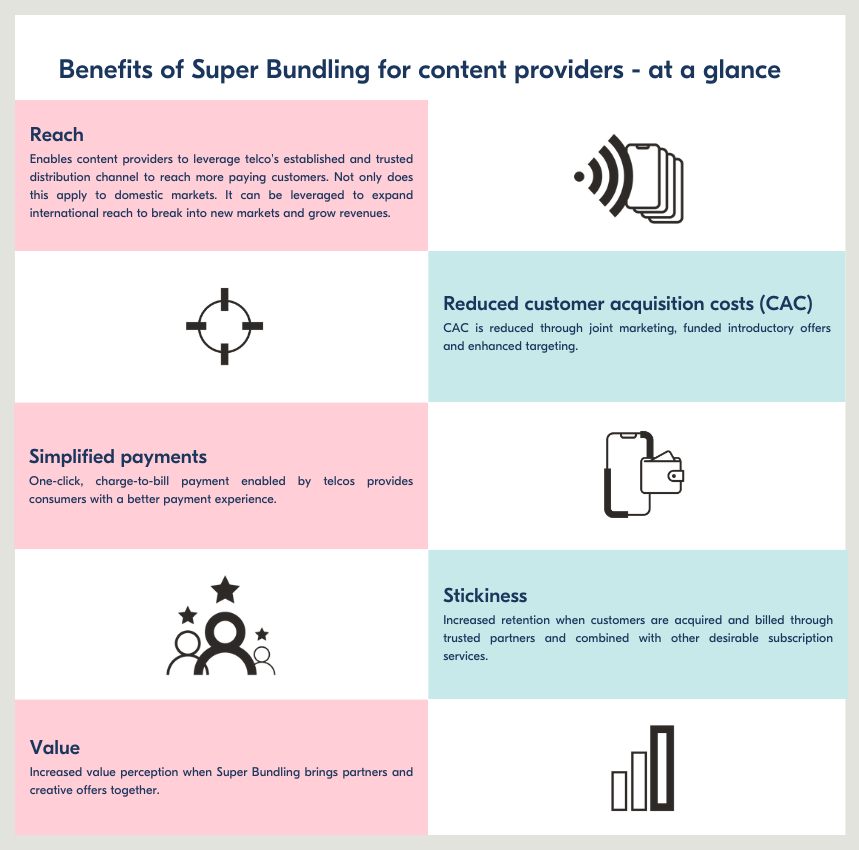 Consumers are buying into the flexibility and choice of Super Bundling
As a result, consumers are more comfortable taking out more subscriptions if they have the option to pause subscriptions without losing their content status or history.
In fact, according to research, 63% of subscribers would sign up to more subscription services if they had access to Super Bundling with 70% willing to spend more time using their subscription services.
What's more, it can all be done simply via Bango's digital vending machine-inspired service. Once a service or content provider connects to the Bango platform, they instantly become available to telcos and other content aggregators, making services available to millions of potential customers.
It's an approach that is already being successfully adopted by telcos including Verizon and Optus, allowing them to configure subscriptions offers and bundles to segmented groups of subscribers.
Not only does this approach provide greater choice and flexibility to consumers, it's also a win-win for telcos and content providers that proves that they can 'grow together' through Super Bundling.
Let's be clear. Subscription services are one of the success stories of the digital economy. Revenues are expected to grow despite the ongoing squeeze on household incomes. For subscription providers, the challenge is to maximize customer acquisition and retention without having to spend millions of dollars keeping existing customers happy and engaged.
It was a point made by Eric de Cholnoky, Senior Vice President, Distribution and Business Development from US entertainment service AMC Networks.
"Given that we're not a Netflix, we don't have enough heft — by the branding or content — to appeal to every consumer," said Eric.
"For me, it's interesting to be part of an offering like [Verizon] +play where we can be complementary and more powerful in combination with others than we are standing on our own.
"We don't have to keep a subscriber's interest just in our service if we're bundled with others in a strategic way," he said.
By plugging into Bango's Super Bundling network, subscription providers get instant access to millions of potential customers — for the cost of one easy integration — and instant visibility to all of the telco's customers. Quite simply, it's a 'no-brainer'.