Are you ready to dive deep into the world of consumer behaviors in South-East Asia & India's dynamic digital landscape? Bango presents our latest market report, meticulously crafted to unveil the fascinating insights from six countries: India, Indonesia, Malaysia, Philippines, Thailand, and Vietnam.
Our mission was to uncover the truth about consumer behaviors with the burning question as to whether consumers on pre-pay contracts navigate the digital services world in the same way as post-pay subscribers. The resounding answer is 'YES'!
Our report uncovers the challenges faced by all subscription consumers in these APAC countries. A significant 59% expressed frustration over the inability to manage all their subscriptions in one convenient place. But here's the game-changer! A staggering 93% desire a unified platform to oversee all their subscriptions with 91% of consumers believing that consolidating all their subscriptions into a single platform can revolutionize how they manage household expenses.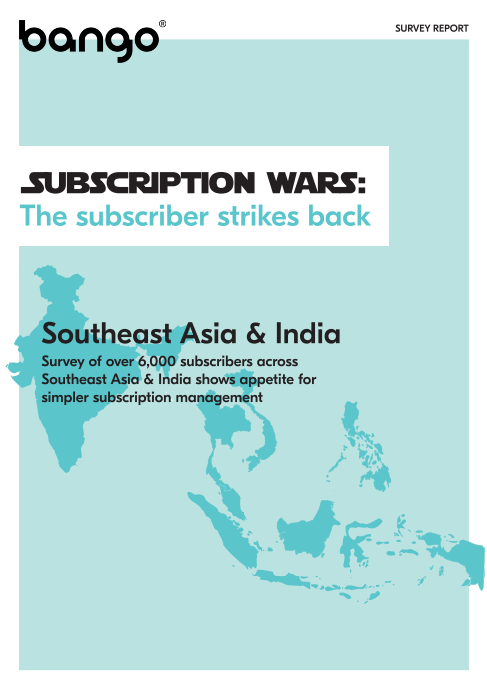 In this report you'll discover:
Key Findings: Get ready to uncover the essential insights into customer behavior in the subscriptions economy of South-East Asia & India
Deep Data Dive: We'll take you on an informative journey, delving into the intricacies of consumer behavior in India, Indonesia, Malaysia, Philippines, Thailand, and Vietnam
Super Bundling Solutions: Discover how Super Bundling addresses consumer pain points, paving the way for platform hubs and content providers to seize exciting opportunities
The Power of Content Hubs: Gain a deeper understanding of this ground-breaking concept and how it aligns with evolving consumer needs, reshaping the subscription economy